Are you not happy with the look of your smile? Do you have stubborn stains on your teeth that just won't go away? Do you want a brighter smile? Over time, there are several different things that can contribute to stained teeth. Among these, colored pigments from foods and beverages are one of the most common culprits. Age also plays a role since the enamel layer becomes thinner over time and allows the yellowish dentin to show through. In some cases, certain medications and/or medical conditions can also affect the color of your teeth.
The good news is that although there are several different things that can stain your teeth, there are also different options available to remove or conceal these stains. If you are unsatisfied with the color of your teeth, then you should talk to your local cosmetic dentist about various options to improve the color of stained teeth. Some of the best cosmetic dentistry treatments for stained teeth include:
Professional Teeth Whitening
One of the most commonly used methods to improve the color of your teeth is to have them professionally whitened by your dentist. Although there are over the counter whitening treatments, professional teeth whitening treatments contain higher concentrations of whiteners and are applied by a dental professional. This allows you to see dramatic results in as little as one dental appointment. Having your teeth professionally whitened also minimizes the risk of side effects such as gum irritation. Teeth whitening treatments work by dissolving stains from the enamel and dentin layers of the teeth. However, this type of whitening is most effective on pigmented stains and may not be as effective on stains from medications or aging. It is also important to note that teeth whitening procedures only work on existing stains and do not prevent future stains. Because of this, the results of professional teeth whitening procedures generally last about 1-3 years, depending on diet and oral hygiene habits.
Veneers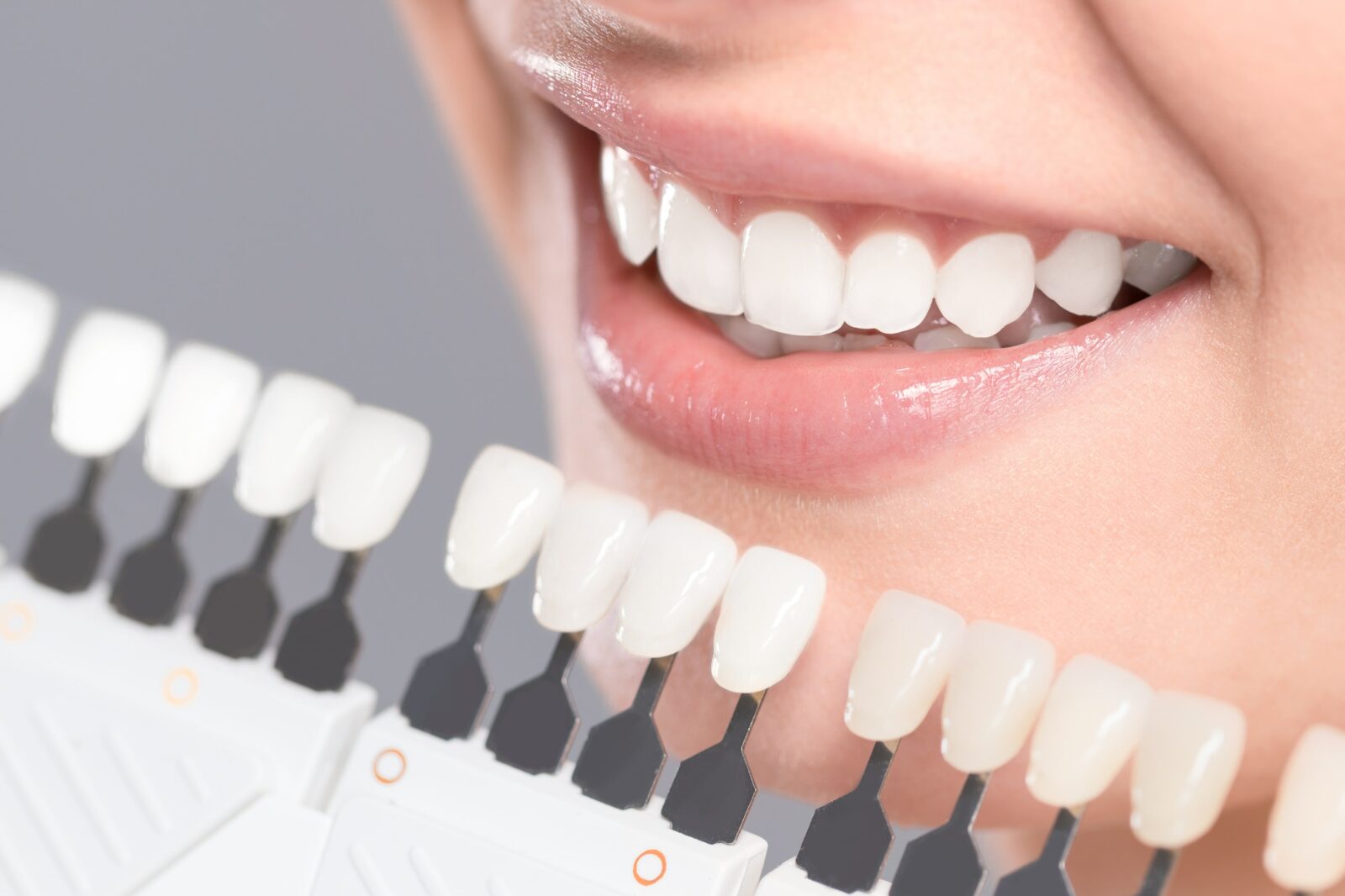 Veneers are another common method people use to improve the color of their teeth. In addition to improving the color of the teeth, however, veneers can also improve the overall appearance of the teeth by altering their shape, size, spacing, and alignment. This is because veneers are indirect restorations that are fabricated in a dental laboratory according to specific instructions. They are then cemented onto the front side of one or more teeth. Veneers are effective against any type of stain. However, it is important to note that veneers only conceal stained teeth and do not actually remove the stains. Once applied, veneers tend to last about 10-15 years. Since they are generally fabricated from porcelain, they do not stain as easily as natural teeth and stay bright for most of their lifespan.
Dental Crowns
Another option you have for treating stained teeth are dental crowns. Dental crowns are tooth-shaped caps that fit over the entire visible portion of the tooth. Although they are often used to restore severely damaged or decayed teeth, they can also be used cosmetically to enhance the appearance of one or more teeth. In addition to improving the color of the teeth, dental crowns can also be used to alter the size, shape, spacing, and alignment of the teeth, much like veneers. However, veneers only cover the front side of the teeth, while crowns cover the entire visible portion of the tooth. Because of this, dental crowns are stronger than veneers and can be used in the back of the mouth. Since veneers are not as strong, they are generally only used for visible teeth in the front of the mouth. Dental crowns have a similar lifespan to veneers and can be fabricated from porcelain to be stain resistant.
Overall, when it comes to treating stained teeth, there are a variety of options available. Some options, like professional whitening treatments, can be completed quickly, but have a shorter life span. Others, like veneers and dental crowns, take more preparation, however last longer over time. Therefore, to determine which is right for you, you should speak with your local cosmetic dentist.